MYTH
Magnetic Scrolls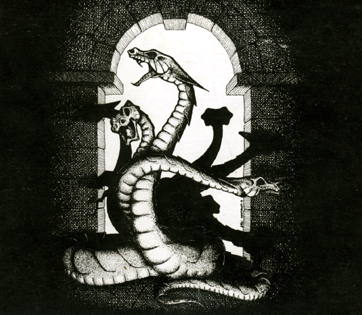 Amiga (also on ST, PC, C64, Spectrum + 3)
(Exclusively available to members of Official Secrets)
In a marketing dream come true, Official Secrets (the Adventurer's Club) have the exclusive honour of having their very own Magnetic Scrolls adventure.
The story revolves around a rather inept Poseidon. God of the Sea and can't swim. As he says himself: 'Have you any idea how difficult it is to look godlike and awe-inspiring clad in a pair of red water-wings?'
In an effort to counter the growing surge of Christianity, Zeus, the numero uno among gods, has decided to set a task for the other gods to 'tighten our slack attitudes, rout our complacent outlooks and rid ourselves of these pot-bellies.'
Thus you, Poseidon, have the first task. To steal Hades' helmet of invisibility from the throne room of his palace.
The only real drawback of this adventure is its rather short length. After saying that, though, the delays Myth has suffered have largely been due to the programmers expanding and adding to the adventure. Apparently, Myth was never supposed to be as large as it is now. There are no fancy trinkets or manuals included, the disk arrives in a simple folder with minimal documentation. The parser can cope with most inputs, the few graphics are good, as is the interaction with other characters. Overall, Myth, which shows some detailed research by the author, is an enjoyable jaunt amongst the Greek deities.
| | |
| --- | --- |
| Presentation | 78 % |
| Interaction | 85 % |
| Atmosphere | 87 % |
| System | 88 % |
| Overall | 85 % |