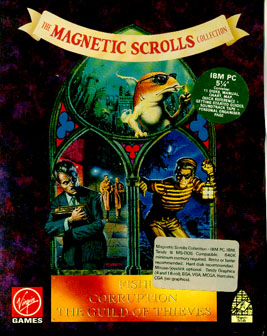 The Magnetic Scrolls Collection Vol. 1 (1991)


Three Magnetic Scrolls´ hits in one package - now enhanced to run under WONDERLAND´s Magnetic Windows environment.

Fish! - The Seven Deadly Fins, an inter-dimensional group of anarchists, are on the loose. THE PROJECT has been sabotaged...can you, a mere goldfish, save the day? FISH is full of what you least expected, lacking in all that´s rational and devoid of all good sense.

Corruption- Outwardly you´re on the fast track to success in the City. But what corruption lurks menacingly just beneath the glittering facade? CORRUPTON is a racy thriller where the only person you can trust is yourself.

The Guild of Thieves- How sneaky can you get? The answer is ´VERY´ to stand an earthly of qualifiying for entry into the famed Guild of Thieves. In THE GUILD OF THIEVES, treasure abounds but can you find and steal it all ?
| | |
| --- | --- |
| Story, Graphics, and Programming: | div. , refer to Fish!, Corruption, The Guild of Thieves |
| Platforms: | Atari ST, PC |
| Game box contained (PC): | "Getting started" on PC, 92-page manual, quick reference guide, poster map (The Guild of Thieves), fish identification chart (Fish!), page from personal organizer and tape "Derek Rogers, March 25th" (Corruption), 11 5.25"-disks |
---
Back to main page , The Works , About Magnetic Scrolls , Download , Links