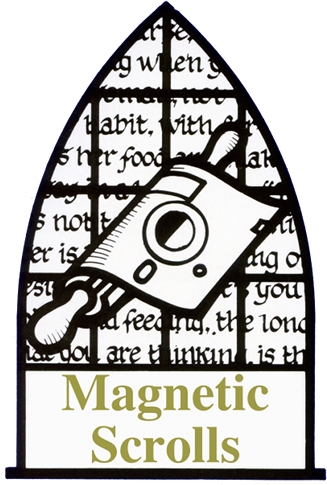 Rob Steggles wrote three scenarios that were released by Magnetic Scrolls
Which system did you use for writing the games? Was it difficult to adapt to that system, learning its "language", so to speak?
Ken and Hugh were the programming geniuses: I knew a bit of 6502 but not enough to go to their level. So I was given a data entry tool called Fred23 (a glorified text editor), a model of the 14 byte data structure and told to get on with defining objects and writing room descriptions and making it all fit together. I wonder if my gravestone will read "noun "Robert Steggles", adj="grumpy", person, size=15, weight=15, container=no, sharpness=dull etc etc ...
How did you tackle the task of designing The Pawn?
The creation process always started with a "What if…." phrase. Hugh was very good at these. In fact, he'd been doing it all through school so we'd been trained by him in lateral thinking from an early age.
Generally speaking, how did the process of designing puzzles work for you back then?
Using the word 'design' makes it sound like we had a grand plan thought out over many months of agonizing over analyst presentations and consulting focus groups. If we liked it, it was good. There was no pressure to articulate why but usually if it made us laugh it was good. If we thought it was a bit dull, it got cut.
This is something I've always wanted to know - whose idea was it to condemn poor old Jerry Lee Lewis to hell?
It's his own fault. It was going to happen sooner or later. You can't write 'Great Balls of Fire' and not have that happen to you.