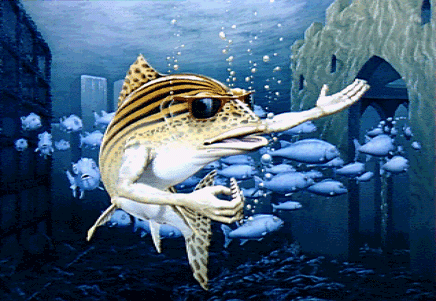 "Writing 'Fish!' is one of the most creative, 
scary, fun, frustrating, liberating and fascinating 
pieces of work I've ever been a part of"
- Phil South
And how would you describe the working relationship between you as writers?
As I've said before I was kind of the weak link. John was the driving force, Pete was the referee, the voice of reason, and the only person who didn't lose his temper. Robert Steggles was experienced and dug us out of a hole when my creativity ran out and my life overtook my work. But I remember being very hurt that it was deemed necessary to get him in to finish it. I should have been up to the task, but for whatever reason I was distracted and unable to finish. I've subsequently discovered I suffer from ADHD (Attention-deficit hyperactivity disorder) so that explains a lot. ADHD people are GREAT starters and poor finishers.
In the end what you see is Johnnie and me doing wild and crazy stuff, with Pete binding our ideas together and adding a little sanity and Rob Steggles making it work as a game. That's the way I see it, others may disagree.
How much of the original story and ideas made it into the finished game?
Lots of the original ideas found their way into the final game. The way the ideas are presented, the text, changed a lot with many, many re-writes.
Were you pleased with the end result?
I was very pleased with the result and it was everything I hoped it would be. It did go through a number of changes and down some other directions I was not happy with, but as I recall it came back on track and finished up pretty much the way I imagined it.